Art Quilting - Mini Mosaics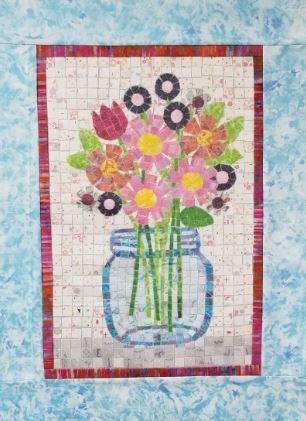 Mosaics are so fun and very portable for those days that you want to sew, but have no machine! Perfect for retreats, RV or in front of the TV!!! Pick any pattern; Turtles, Beach Houses or the Flower Jar free pattern from the Shop Hop. Make your scraps into something fabulous!!!!
Bring to class:
Small sharp scissors.
Small cutting mat and rotary cutter.
Tweezers.
Wool pressing mat (best option) or foam core sheet.
Pattern and ruler. Mosaic ruler or small Stripology ruler. Ruler is not mandatory… but it makes this fun and fast.
Batik fabrics (small amounts) that will work in your pattern. Remember light, medium and dark values.
Steam a Seam 2 big enough for picture.
Old gift card or credit card.
Plastic bead organizer or small plastic bags to organize cut squares.
Be sure you are registered for class at Quilter's Haven!