ART CLASS January 2020 - Snow Dyeing
Sunday January 19, 1:00-3:30
Bring to Class:
If there is no SNOW…. Please bring a large bag of ice!
PFD (prepared for dying) fabric, 2 yards+ available at Quilter's Haven.

Optional: Lace or other fabrics to dye.

Old clothes or apron... We will be working outside so please dress warmly.
Rubber gloves
Black Sharpie to write you name on your fabric
Gallon Plastic Bags
Plastic containers (shoe box size or larger). We use plastic containers hold your fabric snow and dye.

If you plan to dye smaller pieces of fabric then you will need only small containers.
If you want to dye larger pieces, larger plastic containers will be better.
I have lots of these if you need to borrow... just let me know!

Optional: Face mask... I have some!
Optional: Large bucket.
Trash bags to transport your tubs home.
Materials fee $10 payable to Shelli
Class Fee $20 to Quilters Haven
Please call Quilters Haven at (651) 322-7071 to reserve your spot. Please RSVP Shelli by email or by text (952)-270-1472 to ensure that I have enough supplies.
---
ART CLASS February 2020 - Mini Mosaics
Sunday February 9, 1:00-3:30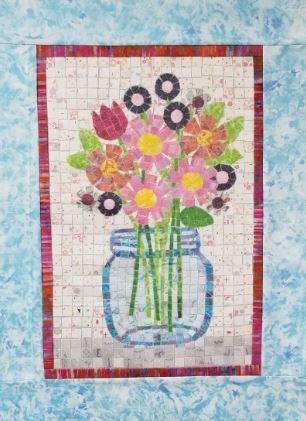 Mosaics are so fun and very portable for those days that you want to sew, but have no machine! Perfect for retreats, RV or in front of the TV!!! Pick any pattern; Turtles, Beach Houses or the Flower Jar free pattern from the Shop Hop. Make your scraps into something fabulous!!!!
Bring to class:
Small sharp scissors.
Small cutting mat and rotary cutter.
Tweezers.
Wool pressing mat (best option) or foam core sheet.
Pattern and ruler. Mosaic ruler or small Stripology ruler. Ruler is not mandatory… but it makes this fun and fast.
Batik fabrics (small amounts) that will work in your pattern. Remember light, medium and dark values.
Steam a Seam 2 big enough for picture.
Old gift card or credit card.
Plastic bead organizer or small plastic bags to organize cut squares.
Be sure you are registered for class at Quilter's Haven!
---
ART CLASS March 2020 - Needle Felting
Sunday March 8, 1:00-3:30
Details for Needle Felting class will be available soon!